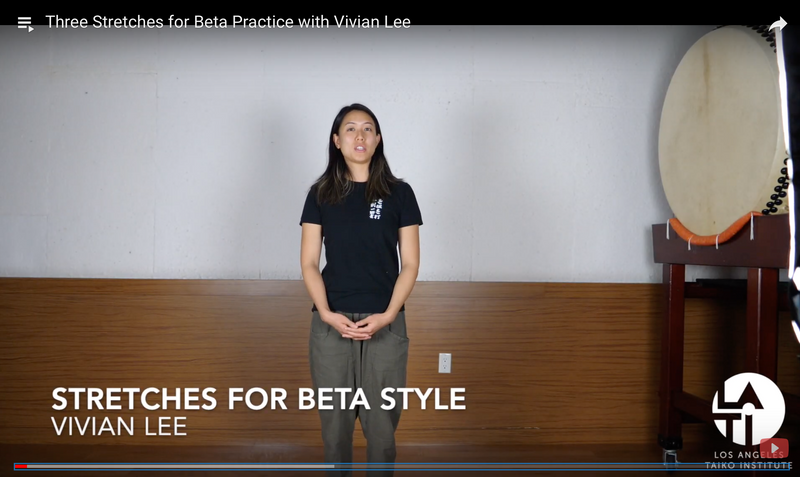 Three Stretches for Beta Practice with Vivian Lee
Los Angeles Taiko Institute Coach and  student of physical therapy at USC Vivian Lee explains various stretches for beta practice.  Use these stretches to loosen your arms and shoulders before and after practice.  If you feel pain, stop immediately and consult a physician.  Send questions to: vivian@taiko.la

About Vivian Lee
Vivian started her taiko journey with UC Berkeley's Cal Raijin Taiko. Following four years with collegiate taiko, she spent a year training with Dadadadan Tenko, a professional group in Osaka, Japan.  Since then, she has practiced with Australia's premier taiko ensemble, TaikOz and performed with Joe Small's Spall Fragments. She is now both a coach at LATI and a student of physical therapy at USC.

Los Angeles Taiko Institute - http://taiko.la
Los Angeles Taiko Institute (LATI) is a dedicated taiko school offering ongoing courses, multi-day intensives, and one-time workshops on a variety of Japanese drum topics. From the dance-like movements of "naname" style (slant-drum) to the fast drumming techniques of the high-pitched tsukeshime-daiko, LATI teaches a wide spectrum of the art of taiko. Incorporating professional, tour-tested repertoire, LATI students learn powerful music from accomplished, enthusiastic artists. LATI is housed at the brand-new Asano Taiko U.S. facility in Torrance CA.

Asano Taiko US - http://asano.us
Asano Taiko, located in Matto, Ishikawa Prefecture, is on of the major taiko manufacturers in Japan. Ever since its foundation in 1609, the company has been making a wide range of taiko drums, with all processes from the felling of the trees to the finishing touches done by hand.