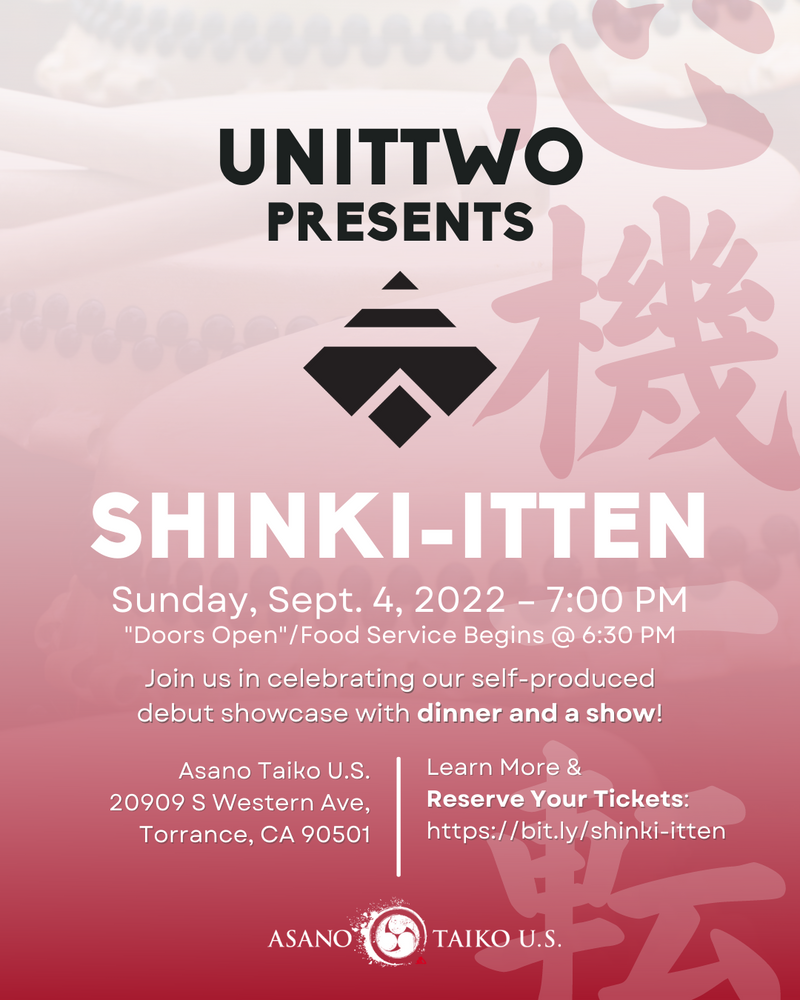 UnitTwo is proud to present our self-produced debut showcase: SHINKI-ITTEN.
Bringing together Japanese characters for heart, mind, opportunity, and transformation, SHINKI-ITTEN represents a "fresh start" for the members of UnitTwo – a group founded not long before the pandemic hit. These words also embody our drive and determination to continue growing together as an ensemble and sharing our love for taiko.
WHERE:
Asano Taiko U.S. - parking lot. Chairs and tables will be provided but will be on a first-come, first serve basis.
WHEN:
Sunday, Sept. 4, 2022
Doors open: 6:30 PM
Show starts: 7:00 PM
FOOD:
Yes! Food will be catered by Back Home in Lahaina and will be available when doors open at 6:30. Please feel free to eat while you're watching and enjoying the show.
TICKETS & DONATIONS:
Admission is free! Donations will also be accepted, and your generous support for this event will help cover not only production costs, but also our brand-new uniforms, studio rental, and other future UnitTwo events. Please visit our Eventbrite page (
https://bit.ly/shinki-itten
) if you would like to donate ahead of time, or cannot make the show but would still like to make a contribution.
FAQ:
Free parking on-site with additional street parking available. For additional questions, please contact taiko@asano.us.
COVID-19 Precautions:
This is an outdoor event. Guests are encouraged to be up-to-date on vaccinations and practice social distancing. Masks are required to enter the Asano Taiko U.S. facility. UnitTwo is making these recommendations in accordance with guidelines produced by the WHO, CDC, and state and local governments. You can learn more about the Los Angeles County Community Level and recommendations (
https://www.cdc.gov/.../your-health/covid-by-county.html
).
ABOUT UnitTwo:
UnitTwo is a performing ensemble under the umbrella of Asano Taiko U.S. and the Los Angeles Taiko Institute.
ABOUT Asano Taiko U.S. (
https://asano.us/
):
Asano Taiko U.S. is a full-service taiko (Japanese drum) facility located in Torrance, CA offering a walk-in store, on-site taiko maintenance and repair, and hands-on taiko classes.