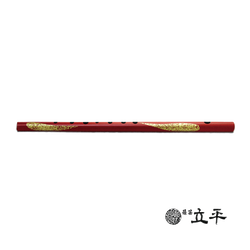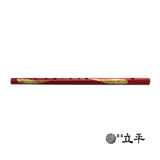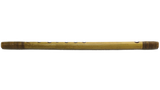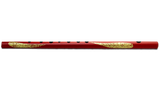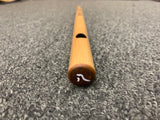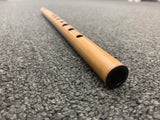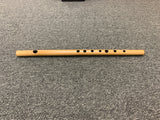 Key Chart: 
| | |
| --- | --- |
|  # | Key |
| 8 / 八本 | C |
| 7 / 七本 | B |
| 6 / 六本 | Bb (A#) |
Nuribue (coated flute)
We sometimes hear from Shinobue players that their flutes cracked during the performance.
As nuribue are coated with lacquer, the condition of the bamboo doesn't change easily.
Therefore, you can keep your flute in good condition.
Coated flutes are so resistant to climatic fluctuation that they are hard to crack compare to non-coated or wicker-wound ones.(*)
We " Shinobue Rippei" aspire to make long –last flutes with resonant tones under any circumstance.
(*)As they are made of natural bamboo, we can't say that there is no possibility of cracking at all.
■Makie
Please imagine you are playing this nuribue with makie in the spotlight.
As gold leaf is used in makie the glow of pure gold never fades away.
The leaf is applied with silkscreen technique.
This is our original method incorporating Japanese traditional features in modern design.(*)
(*) As every flute is hand- made the position of makie is slightly different depending on the flute.We also carry red, black and brown nuribue without makie.
■Chabue (brown flute)
Shinodake or madake have mostly been used for the structure of thatched roofs.
Smoked above an open hearth for about a century, so perfectly dried, they became
umber-colored bamboos "susudake"
Besides they are well dried, their brown hues are very popular, so become precious as materials for tea-utensils and flutes.
On the decrease in thatched roofs, it has been difficult to obtain susudake these days.
So, we have made them artificially for steady supply.
We place bamboos in severe circumstances on purpose for a certain period and then select ones in really good condition for the materials.
■Fuki-urushi
An old Japanese lacquer "urushi" is called japan by Western people.
Fuki-urushi is one of traditional techniques to apply urushi.
We use unrefined urushi just tapped from the tree, so we call it kiurushi (raw lacquer) Putting it on the silk cloth or washi, with which we rub it into a flute repeatedly.
By doing so, the flute has natural feeling and increases sturdiness.
The production of urushi in Japan has been scarce, so it's very expensive these days. kiurushi in Joboji -cho, Iwate pref. for fuki-urushi.
■Madake
Madake used for shakuhachi is thicker and harder than shinodake.
Shinobues made of madake have difficulties with processing and tuning because the distance between joints of madake is short, so it has a joint between utakuchi (kind of mouthpiece) and tail. (Please take a look at the picture of madake flute. There are joints between the top and tail)
And there are few madake with appropriate distance between joints and diameter for tuning.
The feature of madake flutes is having wide range from soft to big sound.
As for the tone quality, if you blow softly it becomes husky like Shakuhachi, if strong,
becomes sharp and powerful.
■Tuning and feeling of blowing
Shinobue for Uta(song)is tuned in sol-fa scale that is suitable for ensemble with Western instruments like the piano or the guitar.
Tuned in A=442Hz equal temperament and adjusted the octave.(*)
Bamboos are produced by the nature, so no two bamboos are exactly alike in figure.
Our Shinobue produce rich overtones by making inside of the tube uneven according to its figure artificially
The secret of well-carrying sound is in this figure inside of the tube.
That's why we worked out making such a sound and the feeling of blowing that are unprecedented. (*)We measure it at 20 degrees C, after winding inside of the tube to warm.
There may be un avoidable error due to the temperature or the shape of player's mouth.