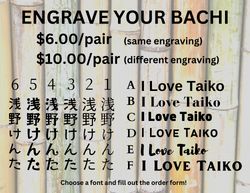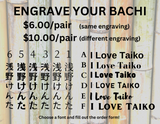 Customize your bachi with special engraving! 
Same engraving for both bachi: $6/pair
Different Engraving: $10/pair
ENGRAVING IS ONLY AVAILABLE FOR SHIME AND CHUDAIKO BACHI. 
Order a pair of bachi and also add this product to your cart to add custom engraving.
After you are done placing an order, fill out this FORM to let us know what you would like engraved on your bachi. 
Maximum engraving size: 5 inches in width and 0.5 inches in height