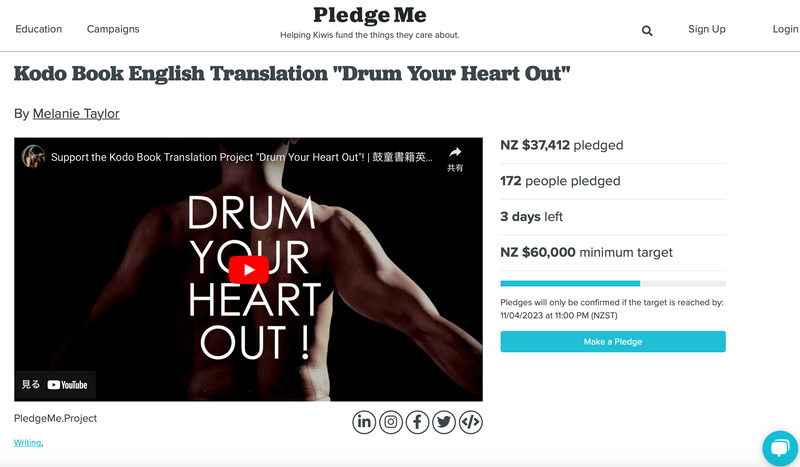 Kodo Book English Translation "Drum Your Heart Out"
Japan's acclaimed taiko drum ensemble Kodo has been touring the globe for over four decades, on a mission to connect and uplift people with soul-stirring performances centred around taiko—Japanese drums.
It's time to share Kodo's story with the world in English at long last!
Kodo is a pioneer and world leader in taiko performing arts. To mark its 30th anniversary in 2011, Kodo published a book to capture its inception and remarkable journey to date, including its antecedent group Sado no Kuni Ondekoza in the 1970s. From an overview of the group's origin and history to interviews with Kodo members, collaborators, and ardent supporters, this book offers unprecedented insights into the world of Kodo. It's a chance to learn about the group like never before, from the ensemble's evolving stage expression to the member's daily lives and personal experiences.


Published in Japanese only, this story has only reached Japanese readers…until now. With your support, certified Japanese-English translator Melanie Taylor, a long-term Kodo colleague with in depth knowledge about Kodo, taiko, Japan, and Sado Island where the group is based, wants to make this story accessible to the world at long last. By translating this book into English, Melanie wants to give Kodo's global audience, especially the ever-expanding taiko community, a chance to learn more about the ensemble's unique past from the source. This book will give taiko enthusiasts a chance to learn more about Kodo from Kodo. It's a story that will undoubtedly offer inspiration to anyone who wants to launch a mission, organization, or passion project.


Supporters can choose perks including getting the PledgeMe Supporter Limited Edition e-book and print book, having your name in the book, or putting your group's logo and name in as a supporter.
If the campaign goal is reached, PledgeMe supporters (Bronze, Silver, Gold, Platinum) will also be offered flash-sale access to purchase limited edition and retail edition print books and e-books at a discount.
https://www.pledgeme.co.nz/projects/7438-kodo-book-english-translation-drum-your-heart-out