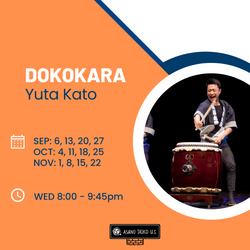 Yuta Kato: Dokokara - WED 8PM
Class Details
Wednesdays, 8-9:45pm

Sep: 6, 13, 20, 27
Oct: 4, 11, 18, 25
Nov: 1, 8, 15, 22

Description
- Learn Yuta's composition, "Dokokara"!
- Originally commissioned and performed by Zenshin Daiko, "Dokokara" draws its name from taiko syllabary, where "doko" means two strikes in the center of the drum and "kara" is two on the rim.
- In Japanese, the phrase "doko kara?" also means "where from?". The piece's arrangement plays on the concept of the rippling effects of energy on its surroundings. Where does energy come from? And where does it go?

Additional Notes
- Prior Taiko Experience Necessary
- Enrollment options: full payment ($300) or monthly ($108/mo)
- Courses/classes are non-refundable
If you have any questions regarding the courses please contact us: 424-558-3118 or email taiko@asano.us .